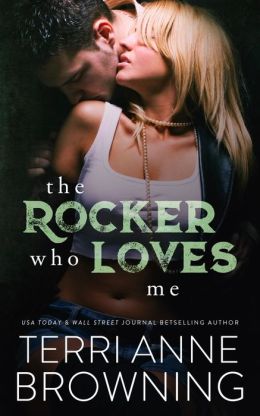 Original release date: 28th September 2013
I am sorry ladies but all members of Demon's Wings are now off the market.
This is the fourth book in The Rocker… series and centres around Shane and Harper.

Harper is a girl with little to no self esteem, used to being behind the camera inside of in front of it. Bullied by her mother and stepsister from a young age her confidence in her beauty is shattered and broken, until she meets Shane.

Shane, the bass player in demon's wings, has spent his life keeping both women and his feelings at bay by keeping all emotion away from his meaningless sex with every woman who takes an interest in him. The only people he allows to get close following his abuse as a child and his mother's subsequent suicide are his band brothers and the women that love them. That is until he meets Harper and learns what love, and sadly, sexual deprivation, is all about.

Both characters have their own demons to slay and only with their relationship can they learn to heal.

This is a great book as it deals with the fall out following long term abuse as children and the feelings the character have of feeling unwanted following this abuse and not feeling good enough for each other. It also deals with the healing effects of their love with one another as well as briefing touching on the healing effect that Nik's continuing love has had on Em.

It is lovely to look once again at the lives of characters in the books which preceded this one in the series and also gives us a brief glimpse at the future stories to be told, such as that of Dallas and Axton. Also seeing another two viewpoints of Lana's heartbreaking miscarriage was good as it affected all characters in the demon's wings in difference ways, especially as Harper was Lana's flatmate and Shane is Drake's brother. It was also great to meet Cecil, Harper's stepfather, who was a warm and gentle character, as well as more members of Drake's and Shane's family.

The book also allows us a view of the wedding and bridal shower of Lana and Drake and reminds us that there might be bumps in the road but love will see us through, as it does for the four couples so far paired in this series.

A great book dealing with life's demons that I would recommend to all, especially as the series has just got better and better.

The book can be purchased for the Kindle from amazon as well as on other e reader formats from other stores.